Welcome to Neighborhood Orange Bike
Getting 25 people committed to experience an active lifestyle with friends and neighbors on 25 high-quality bikes, custom-built for transportation.
ORIENTATION SESSION
GRIGGS MIDWAY, ROOM S127
Monday, June 12, 2017 at 6:00 pm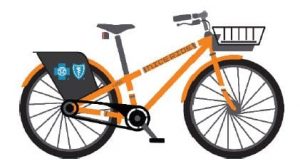 FROGTOWN PROGRAM AT A GLANCE
25 participants working to make biking a part of their lifestyle
6 events between June and September to build a sense of community and celebrate success
$0 cost to you
Complete the Neighborhood Program and earn a brand new Bike!
WHO WE ARE LOOKING FOR (DO YOU QUALIFY?)
To get the most benefit out of this, we are looking for adults (over 18) who:
Reside in the Frogtown neighborhood and need transportation
Not currently cycling and want to be more physically active
Have a safe place to store the bike at night (INDOORS or LOCKED PORCH)
Desire to be part of a group pulling together for better health and a better community
Your Commitment
Participate in orientation, wrap-up, and at least six events and ride at least twice a week
Store bike in a safe place; get all needed maintenance (free at Cycles for Change); return bike at the end of the program
Provide to us your contact information to share with other partners
Tell us what worked and what didn't at the end
Registration is limited and bikes will be assigned on a first come, first serve basis. To sign up, please email Kizzy Downie at kdownie@modelcities.org.